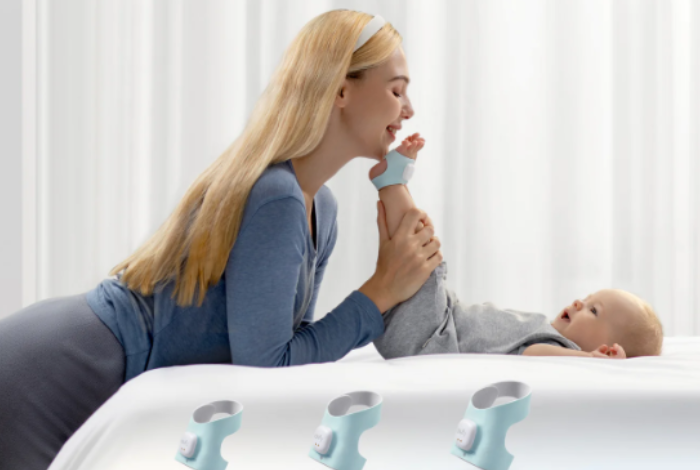 Are you a busy parent searching for the perfect gadgets to make childcare easier, safer, and more enjoyable? In today's fast-paced world, technology has become an essential ally for parents to provide the best care for their little ones. Smart baby monitors that can ensure your baby's safety even when you're not in the room, to educational tablets that spark creativity and learning. We've compiled a list of the best devices for childcare. 
Top Devices for Childcare 
Here are game-changer baby monitors that will revolutionize your parenting journey and bring a smile to both your and your child's face:
S340 Smart Sock
The S340 Smart Sock is a revolutionary device that brings parents unparalleled peace of mind by constantly monitoring and providing real-time updates on their baby's vital signs. With this innovative sock, parents can rest assured knowing that their little one's heart rate, oxygen levels, and sleep quality are being tracked at all times. Now you don't have to worry about your baby's well-being during naptime or overnight. 
The Smart Sock ensures continuous monitoring without causing any discomfort to your child. By seamlessly connecting to your smartphone, this intelligent device allows you to effortlessly access and review comprehensive data regarding your baby's health directly from the convenience of an app. 
S320 Smart Sock
The S320 Smart Sock is a revolutionary innovation in baby monitor technology that ensures your little one's well-being is never compromised. With this wearable device, you can effortlessly stay connected to your baby's vitals and receive instant notifications when any changes occur or if the sock detaches. This advanced feature provides peace of mind like never before, as it empowers parents with real-time information on their baby's well-being at all times.
This baby monitor's incredible versatility allows you to customize alerts based on your preferences for a truly personalized parenting experience. From heart rate variations to oxygen levels and temperature fluctuations, you can control which vital signs trigger an alert and how they are displayed through our user-friendly app interface. The S320 Smart Sock offers unparalleled convenience and exemplifies our commitment to keeping babies safe while providing parents with invaluable insight into their child's health journey.
SpaceView Baby Monitor
The SpaceView Baby Monitor stands out among its competitors with its large 5″ 720p video baby monitor display, boasting an impressive level of sophistication that revolutionizes the way parents interact with their little ones. This state-of-the-art feature ensures a sharp picture quality, surpassing ordinary 240p-display baby monitors by providing ten times more detail. With such remarkable clarity and precision, every subtle movement and facial expression of your precious bundle of joy is vividly captured on screen. 
When your baby starts to walk and run around, attach the included lens to expand the view to 110 Degrees. It ensures that not a single moment of their newfound independence goes unnoticed. 
Conclusion 
A baby monitor can provide peace of mind for new parents, allowing them to stay close to their children without constantly checking in on them. There are a variety of different types of monitors available, so it is important to select the one that will best suit your needs. Some features to look for when selecting a baby monitor include sound quality and how long the battery will last.