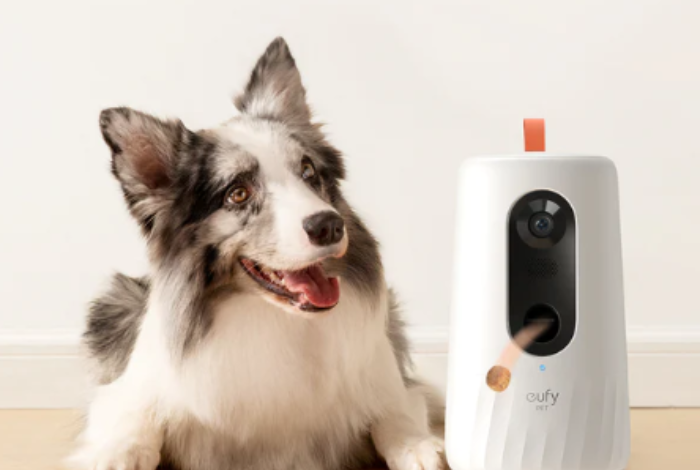 Attention all pet lovers and shutterbugs. Are you tired of missing those adorable, hilarious, or downright precious moments with your furry friends? Well, fret no more because we have the ultimate solution for you. Whether your fur baby is a playful pup, a sassy cat, or even an exotic critter, we've scoured the market to bring you the best cameras designed specifically for capturing their every move.
The best pet cameras
Not only will these cameras capture memories, and they will help secure your pet. You can watch your pet's activities from wherever you want from your phone. Also, you can know if your pet is safe and at home. With these cameras, you will not have to find your pet because they will help you to keep monitoring them. Here is an explanation of the best pet cameras and their features:
Eufy Pet Dog Camera D605
The eufy Pet Dog Camera D605 is a state-of-the-art device that ensures you never miss an adorable moment with your furry friend. Equipped with a 170° wide-angle lens, this camera provides stunning 1080p clarity in real-time, allowing you to see every delightful detail of your dog's activities.
Its night vision feature enhances visibility during low-light conditions, guaranteeing that you can still keep an eye on your pup even after the sun sets. All the cuteness can be conveniently watched through the user-friendly eufy Pet app.
Its 3-distance and 270° rotatable treat tossing capabilities keep your dog engaged and entertained while preventing treats from getting stuck thanks to its unique anti-clog design.
Moreover, this innovative device takes tracking to another level by automatically keeping your dog at the center of attention using pet detection technology and smart motion tracking functionality. And when your four-legged companion starts barking up a storm, you'll receive instant notifications so that you can address any concerns promptly through the two-way audio feature before they disturb the neighbors' peace.
This Dog Camera comes with 16GB of local storage, ensuring all recorded moments are easily accessible without additional monthly subscription fees. This makes it a valuable addition to every pet owner's arsenal of tools.
Eufy Pet Camera Pro N140
Introducing the eufy Pet Camera Pro N140, a revolutionary device that allows you to check on your beloved pets anytime and anywhere. Equipped with advanced AI technology, this pet camera ensures 24/7 care by automatically tracking your dog or cat.
Say goodbye to blind spots, as the camera's rotation feature and wide-angle lens keep your furry friend in focus at all times. The pet camera also features a fun treat dispenser to keep them entertained and happy. It has an anti-clog design. With Full HD resolution, even during nighttime hours, capture every adorable moment of your furbaby in stunning detail using powerful night vision capabilities.
Experience real-time viewing through the eufy Pet app and share these heartwarming moments with your family members, who can simultaneously watch the live feed from multiple devices. This Dog Camera supports only 4G 2.4GHz Wi-Fi connections for seamless connectivity while you're away from home. Stay informed about your pets' activities with smart barking alerts and activity notifications sent directly to your phone via the dedicated app.
Conclusion
We hope you have learned about a pet camera. The cameras we have listed above can all provide a great way to monitor and watch your beloved pet. With a wide range of features and options available, it is important to research to find the right camera that fits your needs and your pet's.