Home & Garden
News
Contemporary Interior Design Guide: How to Make Your House Interior Look Classy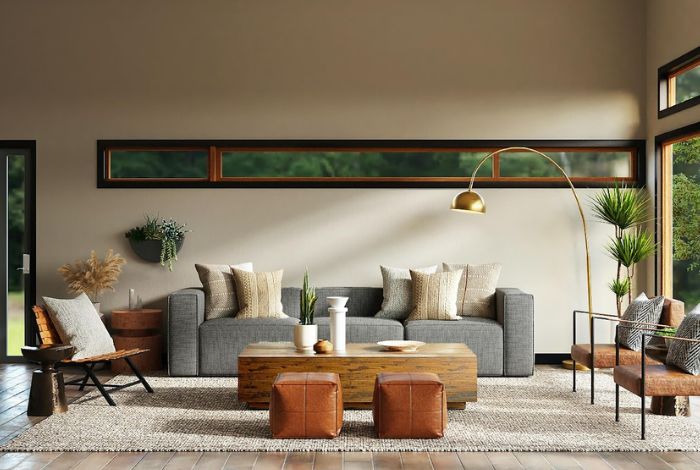 The homes we own have evolved into more than simply a place to live; they are an extension of our personality and a reflection of our way of life. Contemporary interior design is one of the most prominent styles that has grown in popularity. Contemporary design, with its clean lines, minimalist aesthetics, and slick finishes, may convert your living area into a stylish and beautiful refuge.
The key to creating a sophisticated modern home is to strike a precise balance between elegance and efficiency. This article is intended to assist you in navigating the world of current interior design and to give you helpful advice for making your home interior seem sophisticated.
Embrace Minimalism and Clean Lines
Modern interior design is all about simplicity and minimalism. Avoid clutter and go for a clean, uncluttered appearance. Choose furniture with clean lines and uncomplicated styles. Consider using neutral hues, and monochrome palettes perform incredibly well. Lighter colors reflect lighter, making the space appear brighter and more open. Be daring and use flashes of color judiciously with decorations such as vibrant throw pillows, carpeting, or drapes. These small accents add flare and provide a focal point without overpowering the space. They bring brightness without overpowering the area.
Focus on Entry Ways
The look of a space is greatly influenced by the design of the doors. Sliding doors with streamlined hardware conserve space and add modernism to a contemporary design. Doors with frosted glass or semi-transparent panels give style while keeping privacy. On the other hand, internal white doors are an excellent choice for this architecture, providing a smooth, clean appearance that complements the home's decor.
These white doors mix well with any color scheme when coupled with light-colored walls, producing openness and brightness. They also provide a blank canvas for experimenting with door handle designs and materials to add elegance, such as brushed nickel or matte black.
Focus on Quality and Materials
To acquire a sophisticated appearance, invest in high-quality materials and furnishings. Natural materials such as wood, stone, and marble should be used for floors, worktops, and accent items. Textured textiles for upholstery and soft furnishings may enhance the overall design by adding depth and intrigue. You can add opulent accents like soft carpets and throw cushions to create an appealing ambiance.
Where the space is limited, look for multi-purpose furniture, such as ottomans with concealed storage parts or folding tables that can be swiftly packed when not in use. It allows you to maximize your limited space while retaining beauty and functionality.
Create a Bold Focal Point
Modernist interiors frequently have a strong focal point that draws attention and grounds the space. Consider a vast piece of art, a sculptural lighting fixture, or a striking pattern or texture on an accent wall. You can also use minimalist mirrors, which are lovely to make a focal point. Mirrors reflect light, resulting in a bright and airy atmosphere. Consider hanging a large mirror on a central wall or placing smaller mirrors to bounce light throughout the room. This focal point will bring character to your area while elevating its elegance.
Conclusion
Creating a sophisticated contemporary home is all about simplicity, quality, and attention to detail. To upgrade your living environment, embrace simplicity, prioritize high-quality materials, and create eye-catching focal points. Pay attention to the importance of lighting and doors in completing the design. Your home interior may be converted into a stylish sanctuary representing your distinct style and personality with the appropriate mix of design components, internal white doors and a touch of current technology.